Maranatha Mirror Messages are written by a retired pastor whose prolific writings have spanned six decades. These messages are inspired by deep prayer and an enduring commitment to Jesus, our Lord and Master.
These life sustaining messages encourage, inspire, and convict "People of the Way" to enter into the presence of the Living God and to mirror the image of the precious Lord Jesus, bringing his life to this hurt and broken world.
Navigate the menu to read and download recent and archived messages.  Maranatha Mirror also sends new messages bi-weekly as emails. To receive these emails sign up at:  MaranathaMirror18@gmail.com
Artwork: Most of the artwork on this site is by courtesy of the artists. We are blessed and thankful to be able to use this beautiful art because it enhances the power and beauty of the messages. Please honor the generosity of these artists by not copying the pictures. Click on the pictures to visit the gallery of each artist to enjoy more of their art and learn about their faith journeys.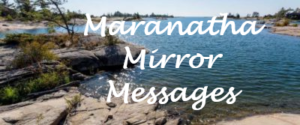 Satan's Clothing Sale
Yes, Satan is having a clothing sale. 
 He has cut his prices.
 For a small compromise you can be the proud owner of whatever style of Sheep's Clothing appeals to you.
 Here are some of the latest lines.
The Prophet
 When you wrap yourself in this garment, you will be able to identify the Anti-Christ!  You will astound the world by revealing who it is!
The Prophetess
This masterpiece of outerwear causes your followers to swoon, as you teach the "Joseph Method" of interpreting dreams.
The Christian Politician
 Everybody knows that there's a pressing need for politicians with a Christian Agenda.  Wearing this stylish cloak, you will be an answer to their prayers!   As you stand up for Christian Values, the folks will be eating out of your hand!
The Doctrinally Sound Scholar
This garment has been in great demand these days, with so many challenges to the faith infecting the Christian world.   When you wear this robe you will demolish the arguments of all who challenge the doctrine of faith.   It's what you believe that counts, not what you do!
 

Not what you do  ???
"Not every one who says to me, 'Lord, Lord,' shall enter the kingdom of heaven, but he who does the will of my Father who is in heaven."
                     Matthew 7:21
How long will Satan's sale on Sheep's Clothing last?
Until the supply runs out.
For a slight  compromise you can wear one of these wonderful wraps. 
"Beware of false prophets, who come to you in sheep's clothing but inwardly are ravenous wolves.
You will know them by their fruits. Are grapes gathered from thorns, or figs from thistles?
So, every sound tree bears good fruit, but the bad tree bears evil fruit.
A sound tree cannot bear evil fruit, nor can a bad tree bear good fruit.
Every tree that does not bear good fruit is cut down and thrown into the fire.
Thus you will know them by their fruits.
                                 Matthew 7:15-20

Prayer
Holy Father, give us the discernment to not be deceived and to not deceive ourselves with these wraps. Help us to recognize a lie, no matter how well disguised it is, to recognize any subtle compromises we make, to know good fruit from bad fruit. Precious Lord, we lay what we are before you. We trust you to prune us, to take our hearts of stone and to turn them into hearts of flesh. Cleanse us within. Remove any disguises, any manipulation, any subterfuge which separates us from you. Lord, give us hearts that seek you, thirst for you, that desire a loving, honest, enduring relationship with you clothed with your beautiful nature with no disguises. So that we are filled with your life and inevitably burst forth in life bearing fruit.
Written June 2019 REB


Art:Wolf in Sheep's Clothing Jeff Preston licensed through Good Salt
LEST YOUR HEARTS BE WEIGHED DOWN
But take heed to yourselves lest your hearts be weighed down with dissipation and drunkenness and the cares of this life, and that day come upon you suddenly like a snare; for it will come upon all who dwell upon the face of the whole earth.
                                                         Luke 21:34-35
Easier said than done.
Whose heart isn't weighed down these day
How can you watch the news and not have a heavy heart?
How can you walk down the street and ignore the pain in those faces?
How can you look into your own heart and still be at ease?
Dissipation:          wasted strength
Drunkenness:      wasted mind
Cares:                    wasted worry
 And yet…..it can be done.
By the power of the Spirit of God we can walk through the Valley of  the Shadow of Death, fearing no evil.
          For thou art with me.
         Thy rod and thy staff, they comfort me.
                     I need to know this in my soul.
                     I need to carry this in my heart.
To discipline my mind to renew itself in his presence.
But watch at all times, 
Praying that you may have the strength to pass safely through the things that will take place, And to stand before the Son of Man. 
 Luke 21:36
The Lord cannot do my praying for me.
         But he will help me when I start to pray.
       I will know this to be true once I take the one step within my power:
To open my heart and call upon his name.
Prayer:
Lord Jesus, we come to you with heavy hearts, afraid of the future, afraid we won't be up to the task of dealing with the turmoil of this world, the troubled around us and our own quivering hearts. We open our hearts to you, calling on you to give us the strength, the confidence, the clear minds and the faith we need to stand before you, knowing you are with us, knowing we never face evil alone, and that in your presence we will find the safety and comfort that lifts our hearts and make them soar with courage to face anything you call us to.
Written June 2015 REB
OUT OF OUR LEAGUE
Jesus tells us to beware of false prophets. He expects us to know them by their fruits.
But Jesus never told us to separate true believers from hypocrites.
That job belongs to the Son of Man and his angels at the Final Harvest. (Matthew 13:41)
Yet how quick we all are to decide whose faith is valid and whose is not.
We can spot spiritual flaws a mile away!
How can that liberal Democrat be a Christian?
How can that flag-waving Republican belong to the Kingdom of God?
What a relief to discover that God knows who's who.
He knows who's walking the walk and who's hiding venom under their tongue.
We're out of our league when we try to purge the Kingdom of hypocrisy, when we start pulling up those tares.
We don't know what we're doing.
Time to back off, and leave it with God.
If we make it all the way to the Marriage Supper of the Lamb,
we may be amazed at who's there…..and who isn't.
One man esteems one day as better than another, while another man esteems all days alike. Let every one be fully convinced in his own mind.
He who observes the day, observes it in honor of the Lord. He also who eats, eats in honor of the Lord, since he gives thanks to God; while he who abstains, abstains in honor of the Lord and gives thanks to God.
None of us lives to himself, and none of us dies to himself.
If we live, we live to the Lord, and if we die, we die to the Lord; so then, whether we live or whether we die, we are the Lord's.
For to this end Christ died and lived again, that he might be Lord both of the dead and of the living.
Why do you pass judgment on your brother? Or you, why do you despise your brother? For we shall all stand before the judgment seat of God;
for it is written, "As I live, says the Lord, every knee shall bow to me,
and every tongue shall give praise to God."
So each of us shall give account of himself to God.
Then let us no more pass judgment on one another, but rather decide never
to put a stumbling block or hindrance in the way of a brother.
Romans 14:5-13
Prayer
Jesus, dearest Master and Judge,  forgive us for trying to stand in for you, for taking up the gavel of judgment we have no business handling. Only you know the hearts of our brothers and sisters, only you know even our own hearts.  We lay our judgmental attitudes, our venomous tongues and thoughts before you. Lord, turn the despising arrows we aim at our brothers and sisters into loving intercession that supports them as they walk the road they have chosen to honor you.  Despite different beliefs, different biases, help us to see and to rejoice that you are our Lord and that we shall bow before you and lift your name together.
Written April 2020 REB
All images by Krieg Barrie (no titles given) via ©Goodsalt
Yet I am Not Alone
The hour is coming, indeed it has come, when you will be scattered, every man to his home, and will leave me alone; yet I am not alone, for the Father is with me.
John 16:32
It's what kept him focused.
The confidence that his Father was with him.When the disciples fell apart and fled,
Jesus was sustained by this Presence which never left him.
When Jesus says to the disciples (including us) "Lo, I am with you always," he is doing for us what the Father did for him.
He is the Vine; we are the branches.
The Vine is always there.
The Vine never lets go.
In the fiercest storm the Vine holds the branch firm.
The Vine commands the branch:
"Abide in me."
Only the branch can do that.
Only the branch can focus on the Vine and keep the connection alive.
If the branch abides in the Vine, it is sustained in every storm.
If the branch neglects that connection, there is nothing the Vine can do but weep.
So how do I abide in the Vine?
By opening my heart to his words, daily, hourly.
Those words are the life of the branch.
For starters, I open my heart to…
Jesus' Sermon on the Mount. (Matthew Chapters, 5, 6, 7)
His Upper Room Discourse. (John, Chapters 13, 14, 15, 16, 17)
His words about the End. (Matthew, Chapters 24, 25; Mark 13; Luke 21)
His words after the Resurrection. (Luke Chapter 24 and John Chapters 20, 21)
Those words have a life of their own.
When we soak them into our souls, the Lord himself comes with them.
"If you abide in me, and my words abide in you, ask whatever you will, and it shall be done for you.
By this my Father is glorified, that you bear much fruit, and so prove to be my disciples."
John 15:7-8
Prayer
Gracious, loving Lord thank you that you do not leave us alone. Thank you that you never let go. Help us to rise to your call to "abide in me". May we do just that. May we find you daily in your beautiful words. May we open our hearts to them, soak them deeply into our souls, drawing life from them so we bear fruit as your disciples.
Written May 2020 REB
All artwork by Kevin Carden licensed through Good Salt.
WHEN MY HEART IS OVERWHELMED
Who of us has not staggered before that overwhelming mountain of trouble?
Who of us has not known that Valley of Impotence?
Who of us is not even now gazing into a future of chilling uncertainty?
And yet….
To be overwhelmed is to be facing Reality.
The Real World is always overwhelmingly uncertain.
            What do we do now?
            Where do we turn?
Who can we trust to show us the way?
The Wilderness of Desperation is the place where we begin to seek God.
Hear my cry, O God; Attend to my prayer. From the end of the earth I will cry to You, Lead me to the rock that is higher than I. When my heart is overwhelmed;
Psalm 61:1-2
When I finally discover that I am not the center of the universe,                         that all the gods of this world are empty idols,
I begin to pray.
All those clever words are gone.
I have nothing left in me but a cry for help.
Lead me to the Rock that is higher than I.
Lead me to the one who alone knows what's going on.
Who alone can help me.
Heaven's answer often comes in three waves:
We receive the protection of God.
Then the direction of God.
Then the peace of God.
The Protection of God
The seventy returned with joy, saying, "Lord, even the demons are subject to us in your name!"  And he said to them, "I saw Satan fall like lightning from heaven. Behold, I have given you authority to tread upon serpents and scorpions, and over all the power of the enemy; and nothing shall hurt you. Nevertheless do not rejoice in this, that the spirits are subject to you; but rejoice that your names are written in heaven."     
                                                      Luke 10:17-20
The same power that protected Jesus until his hour arrived now protects those who walk in his light.
If we belong to him, we are invulnerable until our work is done. 
We are surrounded by heaven's invisible fire until it is time to lay down our lives.
The Direction of God
…but will have the light of life." Again Jesus spoke to them, saying, "I am the light of the world; he who follows me will not walk in darkness,
                                               John 8:12
In answer to our prayer we are drawn to one who knows the way, and shows us how to navigate the darkness of this world.
 He is our Light, one day at a time, one step at a time.
 "He who follows me will not walk in darkness, but will have the light of life."
The Peace of God
On the evening of that day, the first day of the week, the doors being shut where the disciples were, for fear of the Jews, Jesus came and stood among them and said to them, "Peace be with you."
                                                                John 20:19
"Peace be with you," from the mouth of the risen Lord is electrifying.
That peace is the power of the world to come. 

When my heart is overwhelmed,The Master breathes on us his Spirit of Peace to hold us steady through every storm.
lead me to the Rock that is higher than I.
Soon our cry of desperation becomes a daily prayer.
Every day we cry for help.
Every day the Lord surrounds us with his protection.
Every day his Spirit leads us ever closer to the City of God.
Every day the Master breathes his Peace into our souls
Prayer:
Holy, majestic, trustworthy Lord, when our hearts are overwhelmed…lead us to you, the rock. You alone are what we need. We admit our impotence, our vulnerability, and our fear of the uncertainty before us. Everyday surround us with your protection. Everyday draw us to and lead us with your light.  Everyday breathe your peace upon us.  And every day, instead of being overwhelmed by life's storms may we remain steady in you, our Beloved Rock.
POOR IN SPIRIT
Why is it so hard to connect with God?
To hear God's voice.
To know where we fit in this crazy world.
To have faith.
Why are we so deaf to the voice of God, so blind to the glory that surrounds us?
There is a strange arrogance in us all that isolates us from God like a prison wall.
Arrogance.
Until that wall comes down,
not even the Angel Gabriel can get through to us.
So Jesus opens his Sermon on the Mount with these words:
"Blessed are the poor in spirit, for theirs is the kingdom of heaven."
To be poor in spirit is to take down that wall,
and keep taking it down every day of our lives.
The wall comes down, when we face reality.
There is nothing in us that justifies our arrogance.
All our claims to "importance" are illusory.   
Our wisdom is an illusion.
Where is the wise man? Where is the scribe? Where is the debater of this age? Has not God made foolish the wisdom of the world?  For since, in the wisdom of God, the world did not know God through wisdom, it pleased God through the folly of what we preach to save those who believe.
                                I Corinthians 1:20-21
Even with a soaring IQ we manifest an uncanny stupidity,when it comes to the ultimate issues.
We were born with brains, but not with wisdom.
Our wealth is an illusion.
"The land of a rich man produced plentifully, and he thought to himself, 'What shall I do, for I have nowhere to store my crops?' And he said, 'I will do this: I will tear down my barns and build larger ones, and there I will store all my grain and my goods. And I will say to my soul, "Soul, you have ample goods laid up for many years; relax, eat, drink, be merry."' But God said to him, 'Fool! This night your soul is required of you, and the things you have prepared, whose will they be?' So is the one who lays up treasure for himself and is not rich toward God."                                                           
Luke 12:16-21
Our material wealth is as fragile as the mist. When it becomes our security, we're setting ourselves up for disaster.
Our righteousness is an illusion.
Now Joshua was standing before the angel, clothed with filthy garments.
Joshua had no idea how filthy he was.  He was the High Priest.  He was a "righteous man."  
But his righteousness was an illusion.
And the angel said to those who were standing before him, "Remove the filthy garments from him." And to him he said, "Behold, I have taken your iniquity away from you, and I will clothe you with pure vestments." .
Joshua's garment was filthy, and so was his turban, signifying that his mind was also a mess.
And I said, "Let them put a clean turban on his head." So they put a clean turban on his head and clothed him with garments. And the angel of the Lord was standing by.
                                       Zechariah 3: 3,4,5
We have far more in common with the Pharisee, who prayed, "God, I thank thee that I am not as other men are…" than with the tax collector who stood afar off and beat his breast, saying, "God, be merciful to me, a sinner!"
Our very life is as fragile as the flower of the field. For the wind passes over it, and it is gone. Its place remembers it no more.
                                      Psalm 103:16
No matter how we try to bolster our sense of who we are by comparing ourselves with others, by counting our gold, or multiplying our Facebook friends, we know, deep within, that we are actually tiptoeing on the edge of Eternity. 
We are here for a moment, then we are gone.  Like a stone falling into a pond, we disappear and we are never seen again.
Our one hope is to pull down that wall and connect with God. 
"Blessed are the poor in spirit, for theirs is the kingdom of heaven."
We can do it.
 God will help us.
As soon as the wall is down, the arrogance gone, the door to God's World flies open.
We begin to hear God's voice.
God's glory floods our ordinary days.
The kindness of God finds its way into our hearts and flows out of us as a river of life.  
Prayer becomes as natural as breathing.
The joy of the Lord is our strength.
Jesus is truly our Lord and our Friend.
"Blessed are the poor in spirit, for theirs is the kingdom of heaven."
Dear Holy and compassionate Lord, tear down the arrogance that separates us from you. This separation is draining life from us, crushing our souls. We lay down what keeps us from you…our illusions and delusions about our own importance, about our own beliefs and attitudes and even about our own righteousness. We need you. Without you we are broken. We repent of not opening our hearts to you. Lord in our brokenness, as we bow before your holy throne, flood our hearts with your presence, with your glory, with your life… and these poor spirits shall arise blessed and living once again.
THE SHADOW OF THE ALMIGHTY

He that dwelleth in the secret place of the Most High shall abide under the shadow of the Almighty.
Psalm 91:1
So where is "the secret place of the Most High"?
Where is the place where the shadow of God's protection never leaves us?
It's not a fortress.
It's not a cathedral.
It's not a cave in the mountains.
It's a path that leads through danger and trial and indifference and disdain.
The path of obedience to the Master's call.  
If we go where he sends and do what he commands, we are safe, even if we lose our lives.
This path alone is the "secret place of the Most High".
The seventy returned with joy, saying, "Lord, even the demons are subject to us in your name!" And he said to them, "I saw Satan fall like lightning from heaven. Behold, I have given you authority to tread upon serpents and scorpions, and over all the power of the enemy; and nothing shall hurt you.  Nevertheless do not rejoice in this, that the spirits are subject to you; but rejoice that your names are written in heaven."                                                                                 
  Luke 10:17-20
Does this mean I'll never have an accident?
I'll never get sick?
I'll lead a charmed life?
It means that as long as we stay on the path of obedience, the protecting circle of holy fire will never abandon us.  
"You will be delivered up even by parents and brothers and kinsmen and friends, and some of you they will put to death;  you will be hated by all for my name's sake. But not a hair of your head will perish. By your endurance you will gain your lives." 
Luke 21:16-19
So we stay on the path, and never presume on God's protection.
"Follow me", says Jesus, "and every minute of your life will be lived under the shadow of the Almighty."
Dear Lord, Almighty God we desire to live under your shadow. Keep us on the path that leads to your secret place, the place of the Most High. May we remain obedient to the call of you, our Master. May we trust we are safe no matter where you send us, protected by that circle of fire that never abandons us as we seek to follow you every moment of our lives.
.
THE SIMPLE ROAD
Every morning when we get up two roads open before us:
The Fancy Road.
The Simple Road.
The Fancy Road is alive with colored lights and up-beat music as everybody presses toward their hopes and dreams—or runs from their fears.  
If you ask 10 people where this road leads, you receive 10 different answers.  
But where does it lead?
And why is everybody in such a hurry?  
The Simple Road is almost empty.  Those who travel this road are bound for a single destination:  
    The magnificent City of God.
    The place for which we were made  
Every morning when we get up, we choose the road our heart desires
We rise to walk a little farther, to get a little closer to our destination. 
The Fancy Road always beckons, even though the destination is unclear.
If we choose the Simple Road, we will not walk alone.
We will be sustained by the Master, for he tells us, 
"I am the Way."
"I am the light of the world.  
Whoever follows me will not walk in darkness"
Every day anew we make the choice, until the choice is fixed forever.
"Enter by the narrow gate; for the gate is wide and the way is easy, that leads to destruction, and those who enter by it are many. For the gate is narrow and the way is hard, that leads to life, and those who find it are few."
Matthew 7:13-14
Prayer
Gracious  Lord… You are our way, our truth, our life. Each morning as we face our day, make it our heart's desire to choose the simple road. Keep our eyes focused on the destination. May each step we take, bring us ever closer. And thank you, that our paths are lit in the midst of darkness, that you sustain us and lead us through the troubles of this world to everlasting life as we walk this simple road each day. 
TIME ON MY HANDS
There's nothing wrong with relaxing, reading a book, watching a ball game, after the day's work is done.
But what do we do when there's nothing to do?
What do we do when all the doors are closing and all the lights are going out?
No hockey games, no basketball games, no baseball games, no movies, no concerts, not even church!
When all we have left is time.
When Job was stripped of all he had, he still had time.
When Jonah landed in the belly of that fish, time stood still.
When time becomes our burden, what do we do?
We do what we should have been doing long ago.
We ask ourselves, "What are we going to do with the time that's left?"
"We must work the works of him who sent me while it is day, before night comes, when no one can work."
John 9:4
We can fill in the time by being entertained, distracted or cheered by the song of our favorite singer.
Or we can "work the works of him who sent us while it is day, before Night comes, when no one can work."
We can present our bodies to be spent this day as a living sacrifice to God.
We can turn our minds away from the gathering darkness and open them to the light of the Spirit…
….to love God this day with all our heart, soul, mind and strength, and our neighbor as ourselves.
Job had nothing left but time. So he used it to sort things out before the God who baffled him.
Time finally caught up with Jonah. In the belly of the fish he finally accepted the fact that God is in charge.
When time becomes a burden, the door to God's World is always nearby.
One step through that door and the burden of time falls away, as the Lord of Time illumines the next step.
I have yet many things to say to you, but you cannot bear them now.
When the Spirit of truth comes, he will guide you into all the truth; for he will not speak on his own authority, but whatever he hears he will speak, and he will declare to you the things that are to come.
John 16:12-13
When time becomes a burden, look for the door to God's World.
It's but a step away.
Dearest Lord Jesus, we offer this time we have to you. Turn our minds away from the gathering darkness and open them to your light, to your Spirit. In reverent love, we offer you all that we have, including our time. May we hear what you speak. May we follow the Spirit of truth, step through the door, and do the work you call us to do while we still have time.
.
AN ISLAND OF ETERNITY

Why is it that our days are charged with stress? 
Is it our circumstances?
….Or is it our mind set?
True, we live in an Age of Anxiety.
History is 'out of control.'
The entire race senses immanent worldwide disaster in these possibilities:
          Unmanageable war.
         Food shortages.
         Worldwide pandemic.
         The collapse of nature's balance.
And yet, the One "through whom all things were made," and whose presence in this world still "holds all things together"…
…offers to all who will receive it, an "Island of Eternity" within to hold us through any crisis.
"Peace I leave with you; my peace I give to you; not as the world gives do I give to you.   Let not your hearts be troubled, neither let them be afraid."
John 14:27
This peace is not imaginary.
It is more than a "mental state." 
It is life and power from another world—from Eternity.
If you have already committed your life to the Lord Jesus, here is the promise of the Spirit to you:
Rejoice in the Lord always; again I will say, Rejoice.  Let all people know your forbearance. The Lord is near.  Have no anxiety about anything, but in everything by prayer and supplication with thanksgiving let your requests be made known to God.  And the peace of God, which passes all understanding, will keep your hearts and your minds in Christ Jesus.
                                                         Philippians 4:4-7
Prayer
Eternal Lord, through whom all things were made, who holds all things together… we accept and welcome the island of eternity you offer us… your peace… true peace. May we draw within us the life and power that comes from eternity. With this we can face any crisis, any fear. We rejoice, because you are near, you hear us, you exchange our anxiety for peace… a peace that keeps our hearts and minds dwelling with you the Eternal One. What a gift…thank you, Hallelujah!

I HAVE OVERCOME THE WORLD

"I have said this to you, that in me you may have peace. In the world you have tribulation; but be of good cheer, I have overcome the world."
John 16:33
Peace in the midst of tribulation.
Focus, while everything's falling apart.
Because the Master has overcome the world.
He tells us this, hours before he is arrested and executed.
"Be of good cheer, I have overcome the world."
Dragged away in chains—
— he has overcome the world?
Mocked and spit upon by jeering men—
— he has overcome the world?
"My God, My God, why hast thou forsaken me!"
—He has overcome the world?
Yet when he steps out of his tomb as the Firstborn of the New Creation, he has indeed overcome the world.
He has overcome—
—the Prince of this world.
—the curse hanging over the human race.
—death itself.

The world stumbles on toward its final hour, unaware of the One who has overcome it.
Blind to his glory.
Deaf to his call to repentance.
Ignorant of its approaching Day of Accounting.
But to those who have ears to hear, he says,
"In the world you have tribulation; but be of good cheer, 
I have overcome the world."
He never promised us a smooth ride.  
He promised that as long as we are in this world we will have tribulation.
But we will also have joy.
"If you keep my commandments, you will abide in my love, just as I have kept my Father's commandments and abide in his love. 
These things I have spoken to you, that my joy may be in you, and that your joy may be full." 
John 15:10-11
We will also have peace.
"Peace I leave with you; my peace I give to you; not as the world gives do I give to you. Let not your hearts be troubled,  neither let them be afraid."
John 14:27
If Jesus has overcome the world…
And if we have abandoned our lives to him…
…we will walk through the smoke, fire and chaos of the present hour quietly trusting our Master's promise:
"In the world you have tribulation; but be of good cheer, 
I have overcome the world."
Prayer
Dearest Lord Jesus, that we truly would take heart, knowing that despite trouble, chaos, bleakness and uncertainty, we don't need to be troubled or afraid because you have overcome it all. Help us to willingly obey your commandments, to abide in your love and to abandon ourselves to you, finding the peace and joy you have for us in the midst of all tribulations.
Things Are Out of Control
Anybody with eyes to see cannot miss how every level of life on this planet has reached a tipping point.
Climate.
Terrorism.
The economy.
Pandemics.
Corruption in the halls of power.
Mean-spirited talking heads, stirring up strife. 
Is nobody in charge?
Not even God? 
 It is impossible to predict what life will be like a year from now, or even next week. 
 The foundations are shaking.
Earth itself is reeling from its vision of what lies ahead.
 And yet…..
"…You will hear of wars and rumors of wars;             
see that  you are not alarmed."
Matthew 24:6
Don't panic.
In spite of all the chaos and confusion, 
there is a Controlling  Hand poised above it all.  
 Now the eleven disciples went to Galilee, to the mountain to which Jesus had directed them.  And when they saw him, they worshiped him; but some doubted. And Jesus came and said to them,
 "All authority in heaven and on earth has been given to me….."
Matthew 28:16-20
 This Risen One,  the Incarnate Truth, is still in charge.
The Lord reigneth let the earth rejoice!
Psalm 97:1

Prayer
Holy perfect heavenly Father, we reach to you as things are getting out of our control.  We know as this earth is reeling and spinning, that your hand is still in control. Please keep us from panicking and being sucked into the chaos. You are here as mighty and loving as ever.  You are alive, merciful, and powerful and we are yours. May we rejoice in your reign, in your control. May we rest and trust in your hand despite and within any coming chaos.
Can't God See I'm Hurting?
How long do I have to languish in this Valley of Despair?
I pray my heart out and nothing comes back but silence!
Has my faith meant nothing?  
Have I been wasting my time believing in Jesus?
John the Baptist felt that way.
Now when John heard in prison about the deeds of the Christ, he sent word by his disciples and said to him, "Are you he who is to come, or shall we look for another?" 
John gets no sympathy from Jesus.  
And Jesus answered them, "Go and tell John what you hear and see: 
the blind receive their sight and the lame walk, lepers are cleansed and the deaf hear, and the dead are raised up, and the poor have good news preached to them. And blessed is he who takes no offense at me."
Jesus is focused on the Kingdom of God, not on the "Christian Agenda."   
Jesus makes no attempt to change the politics of Israel, or even the politics of the Temple.  
His aim is to bring God's Kingdom to those who the movers and shakers ignore.
John needs to understand this, and so do we.    
As they went away, Jesus began to speak to the crowds concerning John: "What did you go out into the wilderness to behold? A reed shaken by the wind? Why then did you go out? To see a man clothed in soft raiment? Behold, those who wear soft raiment are in kings' houses. Why then did you go out? To see a prophet? Yes, I tell you, and more than a prophet.  This is he of whom it is written, `Behold, I send my messenger before thy face, who shall prepare thy way before thee.'
Truly, I say to you, among those born of women there has risen no one greater than John the Baptist; yet he who is least in the kingdom of heaven is greater than he."
Matthew 11:7-11
The least person in the Kingdom of Heaven has one thing John the Baptist and many modern Christians do not have:  faith 
    Faith that keeps trusting the Master when nothing makes sense.
    Faith that actually obeys the Master.
How does one get that kind of faith?
By following Jesus out among the forgotten ones, and treating them the way Jesus does.
Jesus gives the forgotten ones hope, and so should we—even when we're hurting.
Blessed are the poor in spirit, for theirs is the Kingdom of Heaven.
Blessed are those who mourn, for they shall be comforted.
Blessed are the meek, for they shall inherit the earth.
Jesus stands by Lazarus the beggar, while the rich man hurries past him on his way to church.
Jesus stands by all the Lazaruses on earth, while the world (even the "Christian world") ignores them.
If we're hurting, Jesus is standing by us, while the world hurries past.
But what about the Lazarus at our own gate?  
When our faith falters, we need to open our hearts to the Lazarus who lies at our gate, and let the kindness of God flow through us to him.
Only then will our faith awaken,  and open our eyes to the glory of God.
Prayer:
Jesus, help us to release our hurt, our despair, our apathy in this confusion, by trusting you and you alone when nothing makes sense. Give us the faith to follow you into the unknown…letting go of our own hurts, opinions, ideas…so that as we faithfully minister your kindness to others in pain…the forgotten ones, the Lazarus's at our gate…we find ourselves standing in the midst of your kingdom, in the midst of your glory and find our own wounds are healed.
Oh Lord, My Rock
Unto thee will I cry,
O Lord, my rock!
Be not silent to me,
Lest, if thou be silent unto me,
I become like them that go down into the pit!
Psalm 28:1
My Rock
Nothing in this world is solid. 
Nothing is safe.
Nothing is certain.
Except God—our Rock.
Advances in science and technology have only increased the uncertainty of life in this world.   
Every substitute "Rock" we devise is but a fleeting idol.
Money
Technology
Guns
Political clout
There is only one Rock:
The God whose voice still wakes the dead. 
Be not silent to me
God becomes known to us in only one way:  when we hear him speak.
Be not silent unto me,
Lest if thou be silent unto me
I become like them that go down into the pit.
Words from the mouth of God are even now piercing the clamor of cable news, social media, and hip-hop.
All we have to do is take off our shoes and listen.
"Blessed are the poor in spirit, for theirs is the Kingdom of Heaven."
"You have heard that it was said to the men of old, 
'You shall not kill,' but I say to you….."
"Beware of false prophets, who come to you in sheep's clothing,but are inwardly ravenous wolves."
"Whoever hears these words of mine and does them will be like a wise man who built his house upon the Rock."
Heaven and earth will pass away.
Those words will never pass away.  
God give us the humility to listen…..before we pass away.

Prayer  O Holy Lord, our only rock in this unstable world…we cry out to you. A life without your beautiful voice, your gentle love is death to us. We have our shoes off.  Be not silent to us. Wake us up. We are listening for your voice to call us from our graves.
HOW COME LAZARUS NEVER COMES TO CHURCH
"There was a rich man, who was clothed in purple and fine linen and who feasted sumptuously every day. And at his gate lay a poor man named Lazarus, full of sores, who desired to be fed with what fell from the rich man's table; moreover the dogs came and licked his sores."
The rich man never misses church.  
He is a faithful member, highly respected. 
He supports the religious agenda.
What about Lazarus? 
How come Lazarus never comes to church?
Lazarus is too busy trying to survive.
Besides, the rich man knows that Lazarus wouldn't be interested.  
The rich man knows that Lazarus would never fit in. 
Maybe Lazarus would be more comfortable in the storefront mission over on 3rd Street.
The poor man died and was carried by the angels to Abraham's bosom. 
Wait a minute! 
Lazarus never got saved!
He never prayed the sinner's prayer
All Lazarus has to offer God is suffering.
And he ends up in Paradise?
"The rich man also died and was buried; and in Hades, being in torment, he lifted up his eyes, and saw Abraham far off and Lazarus in his bosom. And he called out, `Father Abraham, have mercy upon me, and send Lazarus to dip the end of his finger in water and cool my tongue; for I am in anguish in this flame.'" 
Luke 16:19-24
If you want to know Jesus, pay attention to Lazarus.
If Lazarus turns you off, pay attention to the rich man.
Pray

er
Lord Jesus, open our eyes to the Lazarus's at our doors. Give us the compassion, empathy and vision to see their wounded lives, as you see them. Give us the hands, feet and listening ears  to relieve some of their suffering, even if what we can do is so little. And compassionate Savior, prevent us from shunning them because of their tormented lives, or from using them as projects to earn merits for ourselves. Instead, with heavenly insight,  may we see that they are dearly beloved by you, saved by you alone, and that you will tend to all their wounds as you lovingly hold them in your bosom. 
What am I Waiting For?
After stumbling through life for years, I have come at last to the Door to God's World.  How do I know it's the door to God's World? The door is open, and I can see glory inside! Once you see it, you know you're looking at the world we were made for!
The Lord beckons me from within, 
"Welcome to God's World!"
So why can't I make up my mind?  
I keep asking myself, do I really want to enter?  Am I ready to leave everything behind and step into God's World?  Maybe I should wait and make sure that this is really what I want to do.
I'm not alone out here.  People just like me are standing in the shadows, waiting.  A woman with deep lines in her face clutches her Bible, whispering a quiet prayer. "How long have you been here?" I ask her.  "It's been years," she replies. "I arrived when I was young. In all these years I have not been able to decide whether I really want to leave it all behind and step through that door."
Leaning against a tree is a man with a giant back-pack.  He knows that he'll have to leave that thing behind, and he's not sure he's ready to part with all the money stuffed inside.
Off in the distance a bell tolls eleven o'clock.  An angel steps through the door and moves out among us with a quiet warning.  
"For all the days and years you have been waiting here," says the angel, "you need to know that there is but one hour left.  Then the door will close forever."
A shudder passes through the waiting crowd.   
No one moves.  
We hear a loud cry as a weeping child comes out of the darkness, runs straight for the door and leaps into the arms of the Master.  
Still no one moves.  
Another child comes out of nowhere and runs for the door.  No hesitation. No second thoughts. "Here I am!" she cries and dashes from our darkness into the Light of God.
"It's easy enough for them to decide," says a weary old man, "They have nothing to lose."  
Still no one moves.
Still the Master beckons, 
"Come to me.  Here's where you will find rest."
So what's the holdup?
What am I waiting for?  
Am I waiting for God to push me?
God doesn't push anybody.  God violates no one's will.  
Each of us is free to decide—until the door closes.   
The Kingdom of Heaven is like treasure hidden in a field, which a man found and covered up.  
Then in his joy he goes and sells all that he has and buys that field.
Matthew 13:44
Lord, help me to find the wisdom and the joy—to buy that field!
Prayer
O Lord, here we are waiting at the door to your world, your glory. May we at last heed your gentle call and seek the treasure you have for us.  Give us the faith, the desire to truly take the final steps, to utterly abandon all, step through the door and leap into your waiting arms before it's too late.