Maranatha Mirror Messages are mainly written by a retired pastor whose prolific writings have spanned five decades. These messages are inspired by deep prayer and an enduring commitment to Jesus, our Lord and Master.
These life sustaining messages encourage, inspire, and convict "People of the Way" to enter into the presence of the Living God and to mirror the image of the precious Lord Jesus, bringing his life to this hurt and broken world.
Navigate the menu to read and download recent and archived messages.  Maranatha Mirror also sends new messages bi-weekly as emails. To receive these emails sign up at:  (Note this link was broken but is now repaired)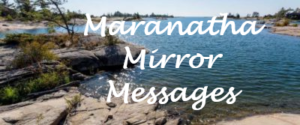 REST
"Come to me all you who labor and are heavy-laden, and I will give you rest."
Matthew 11:28
He's not talking about lying around on cushions while angels serve you cheese and crackers…
He's talking about rest for your burdened soul.
Your mind is alert.
Your body is active.
But your soul is at rest.
You have peace within.
Storms can be raging all around you.
Things can be going crazy in your circumstances.
Still your soul is at rest,
because it has found the true Sabbath.
It has entered the Sabbath that never ends.
"Peace I leave with you; my peace I give to you; not as the world gives do I give to you.   Let not your hearts be troubled, neither let them be afraid." 
 John 14:27
 This Sabbath invitation and Sabbath promise is not for the future,
it's for now.
It is yours as you open your heart to the living Word who is Jesus himself.
Jesus IS the Sabbath.
Abide in him, and allow his words to rule in you, and peace which passes all understanding will keep you safe through any storm.
Whenever this peace is lacking, we need to go back to square one and listen again to his Sabbath Invitation….
"Take my yoke upon you and learn from me; for I am gentle and lowly in heart, and you will find rest for your souls.  For my yoke is easy, and my burden is light."                                                         Matthew 11:29
Prayer
Jesus our Sabbath, our true rest, we open our hearts to you within all the challenges, hurts, and burdens we face. As we take your yoke upon us, we will not be afraid or overcome, because your peace will comfort us and carry us through all things.
FLAWED AND STRUGGLING
 Most people out there are as flawed and struggling as we are.
They love their children.  
They help their neighbors.  
Bewildered and often discouraged, 
they're just trying to make it through another day.
Jesus does not write them off because "they don't go to church."
Jesus does not pass them by because "they are too worldly."
He wraps them in his arms. 
He harvests them into his Kingdom.
When he saw the crowds, he had compassion for them, because they were harassed and helpless, like sheep without a shepherd. Then he said to his disciples, "The harvest is plentiful, but the laborers are few; pray therefore the Lord of the harvest to send out laborers into his harvest."
Matthew 9:36-37
So, where do we fit?
What are we supposed to do?
Pray for laborers!
 Is that it?
We're just supposed to pray for laborers?
One thing is for sure:  we will never know where we fit until we start doing what Jesus asks us to do:
"Pray therefore the Lord of the harvest to send out laborers into his harvest."
Matthew 9:38
Prayer
How beautiful, Dear Lord, that you are compassionate to the flawed and struggling in this broken world.  Thank you that the lost, lonely, helpless and confused are just as precious to you as any saint. Raise up workers, out of our brokenness, give us your heart, give us your compassion, so that we may lead these confused and helpless ones that you love, to you, the Loving Shepherd. 
THE PLURAL PRAYER:   
Those Other People
Those other people.
Who are they?
"Our Father, who art in heaven, hallowed be thy name…." "Give us this day our daily bread…" "Forgive us our trespasses, as we forgive those who trespass against us."
Not, "My Father who art in heaven…"
Not, "Give me this day my daily bread."
Always "Us."
But who are they?
God alone knows who they are.
We could be alone on a mountain top or lost in a desert. 
Yet every time we pray The Lord's prayer, we are joined to these servants of God who also are praying.
            And we are strengthened.
            And so are they.
"And will not God vindicate his elect, who cry to him day and night? Will he delay long over them? I tell you, he will vindicate them speedily. Nevertheless, when the Son of man comes, will he find faith on earth?"            Luke 18:7-8
Will he find faith on earth?
Or a world devoid of faith….
……except for this mysterious remnant, 
who "cry to him day and night"?
Lord, grant that we may be among them!
Prayer. 

Lord strengthen us as we lift our voices and hearts to you. As we do, may we cry out with and for all your other servants who are lifting their voices for the "those" of this world. Keep us faithful to the end.
CAN GOD RUN THE UNIVERSE WITHOUT MY HELP?
It has taken me a lifetime to discover that he can!
But it's hard to accept!
I have this compulsion to try to make things go my way.
After all, what way is more reasonable?
Why can't God cooperate?
It's humiliating to discover that God doesn't need my help.
Or my advice.
Or my critique of his ways.
Anxiety:
—a state of mind resulting from willing what cannot be willed.
—a spiritual sickness caused by trying to run the universe.
Rejoice in the Lord always and again I will say, Rejoice! Let your forbearance extend to all people. Have no anxiety about anything, but in everything,by prayer and supplication,let your requests be known to God.And the peace of God,which passes all understanding will keep your hearts and minds in Christ Jesus.             
Philippians 4:4-7
Prayer:
Lord, what peace awaits us if we could just still ourselves and let you be God. If we could just bask in, and rejoice in, your omnipotent presence. Master of the Universe, Lord, who is all in all, heal us of the need to control everything. May we let go of the burdens, fears and anxieties that grip our hearts and minds. May we rejoice in you and keep rejoicing and as we do, we know your peace will penetrate every fiber of our being